2018 AFSCME 2067 Officer Election
Ballots have been mailed for the 2018 AFSCME 2067 Officer Election and must be returned by June 13. All members are invited to observe the ballot tallying at Union Hall starting at 5 p.m. on June 13.
The following positions ran unopposed and were elected:
Treasurer – DeeDee Jacks
Sergeant at Arms – Ernesto Gonzales
Trustees – Joe Flake
Candidates for 2067 President
On your ballot you will select one of the following candidates for the office of local 2067 President:
Robin Jennings
Hello. I'm Robin Jennings and I am running to be the President of our local 2067:
I have been with the city for 23 years, 8 with Community Enforcement/Parking Services and 15 with Public Works-Customer Services. During my time here with the city, I have been a active member and have held various leadership roles in our union.
There are 625 reasons why I am running for the position. I care about each member. Many of you that I have spoken with have stated that you feel you are unheard and forgotten. This has to change. No one should feel left behind, no one should feel ignored. We cannot be united if we are not all on board with working to ensure safe working conditions, equitable wages and decent benefits. We need everyone on board to ensure that our contracts reflect all of us and all we do.
I believe in the value of unions. I believe in people being treated fairly, being treated with dignity and respect. I believe that when we all work together, we can achieve our goals, whether that be a fair contract or going out on strike. This means working together and sometimes taking the "bull" by the horns and doing things for ourselves, instead of waiting for our employer to "give" it to us. Re-classification is one of those things we have been waiting for…
I am tired of working for an entity that treats us with a plantation mentality, that is to say, that we are told to appreciate that we have a job and not to complain because there is someone waiting to take your spot. It is not right that we have people that work and then not get paid or that the employer decides to change the contract rules to fit a situation. These are just a few ways that we are not being treated with the respect that we not only deserve, but have EARNED. Our contract needs to be followed and not violated. Together, we can work to ensure that the city follows what WE voted on and abide by it.
With your help, I would like to ensure that you are heard. I would like to start with meeting with work groups and hearing from you. As a union, we need to figure out where we go and we need leadership to help steer us there. We need everyone to be a active part of this journey.
Matt Starbuck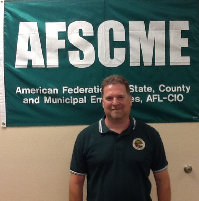 I was born in Roseburg Oregon and I graduated from Souht Albany. I've been married for almost 35 years and I have 3 daughters and 5 grandkids.
After high school I served in the US Marine Corps for 12 years. I came back to Oregon and worked at several electronics companies before coming to work at the city of Salem.
I am an Instrumentation Technician in the Pumps and Controls section of Public Works Operations. I have worked at the City for 10 1/2 years.
I have been active in Local 2067 from my early days with the City. I started out as a trustee for 2 1/2 years before being elected as President. I have been President for 6 years and I'm in the middle of negotiating my 4th contract. While serving as president I have worked diligently to foster good working relationships with management that has helped the local as a whole.
I look forward to serving our membership in the future by fighting for improved working conditions as well as maintaining the rights of our members.