Stand Together with Yamhill County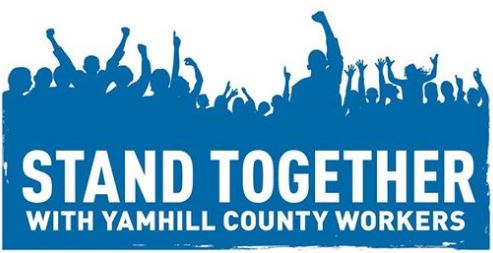 We are Yamhill County. We provide the vital services our community relies on, like public health, emergency management, and maintaining our parks and our roads. We are your family, your friends, and your neighbors and we are standing together for a fair contract.

We're asking for a fair contract. We are asking for fair wages to keep up with the rising cost of living in Oregon. We are asking for the County to make sure we are being compensated equally to comparable and surrounding counties in Oregon, and for the County to maintain our existing employee probation period practices. It's about a fair return on our work which provides services for everyone here in Yamhill County.

Stand with us. Join us at a rally on Thursday, October 12 in McMinnville to call on Yamhill County to work with us and negotiate a fair contract so that we may continue to provide the services we all depend on. For more information on how you can help, please contact Bao Nguyen at bnguyen@oregonafscme.org.
Thursday, October 12 at 11:30 AM - 12:30 PM
NE Evans St & NE 5th St, McMinnville, OR 97128